Mount Maunganui College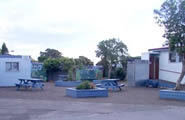 In this project, lead teacher Jean Wallace engaged a small group of Year 13 students in Technological Practice to develop a conceptual design for a student area within the school environment. By giving the opportunity to become involved in a major project outside the classroom, students had the opportunity to learn that technology was not just confined to isolated materials-based courses.
This student area is being developed as part of the proposed Arts building redevelopment. Students worked together as a team to produce a conceptual design for the area incorporating a landscaped outside space with seating and shade, improved canteen facilities, student health centre and the modernisation of the present careers/learning centre.
All levels of the school have been involved in the project – the principal, Board of Trustees, staff, Technology department, maintenance staff and students – together with local businesses such as interior designers, uniform suppliers, landscapers and hardware suppliers to help students with research ideas, materials and expert advice.
Students the Level 2 Hard Materials class developed a feature piece to be used in the outside area. "The project has broadened students' view of technology education," said Jean, "and gave them an insight into different career opportunities. It also gave them an opportunity to give something back to the school. It also provided the Year 12 Hard Materials class with an authentic issue – we'd done the garden seat project in the previous year and it didn't have as much of a focus or genuine purpose."