1 2
Lynn Christiansen, USA
World of WearableArt™ 2010; Open Section; 2nd Open Runner-up Supreme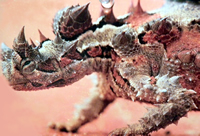 The Thorny Devil Lizard from Australia provided the inspiration for Lynn Christiansen's 2010 World of WearableArt™ entry, although it took months "for the idea to percolate in my head and find its way to the surface". The San Francisco designer says the most challenging part of the design process is trying to work out how she will use an image she is inspired by. "It can be quite frustrating when an image or photo gets stuck in my head but I struggle to resolve what the outfit is going to be."
With the lizard's appearance and in particular its scales, in her mind, Lynn began "gathering" ideas that would complement it. She says images of a suit of armour provided more direction for her design, and she decided to create a costume with scales made in metal. As she sketches her ideas and starts developing her design, Lynn looks back to previous work to help her decide some of the technical details. A shoulder piece she had made several years previously became a key source for the look of Horridus.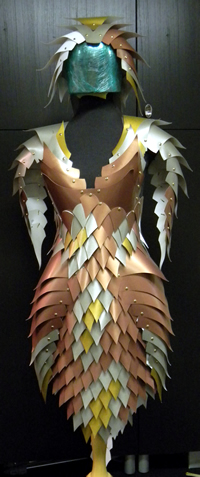 Lynn modelled her final design in paper; this, she says, is an important part of her development because she finds it difficult to visual a design in 3D. She made paper models of different sections of her costume, which is usually all she needs before starting to make a costume. With Horridus, however, Lynn made the entire costume in paper first. "I needed to resolve how the parts would fit together, and when working in metal it's not possible to make significant changes once construction begins."
Lynn thought she could get away with just making the model in white paper but realised she would need to do it with coloured paper as well, to ensure the colouration was right. The initial design had one main colour bordered by additional colours, but after trying out different colour variations on her computer Lynn changed the design. Although concerned that the final layout would be too "visually busy", Lynn was happy with the way it turned out and says the final selection of colours actually goes back to the lizard inspiration better than her initial design.
After making the paper models, Lynn made some samples in copper to check that the shape, weight and size of the scales would work in that material. When she had resolved the overall look of the costume, Lynn started developing the details. A key detail was the surface pattern of the metal. She had scanned a piece of bark and manipulated the picture on the computer to create an image, and then cut parts of it out to see how that would make different patterns.
Images © World of WearableArt Ltd